CROATIAN LANGUAGE SCHOOL IN SIBENIK
THE SCHOOL
Modern school in the heart of Sibenik
Small groups, all course levels
Busy cultural and leisure programme
ŠIBENIK
Save and attractive town in Adriatic
City of UNESCO
High quality of life, good price level
COURSES
The school of Croatian language and culture for the Croatian diaspora and Croatian students.
THE SCHOOL OF CROATIAN LANGUAGE AND CULTURE is intended for the Croatian diaspora and Croatian students. It is situated in the Foscolo Palace, in St . Lovre's monastery in the very centre of Sibenik, just next to the UNESCO 's St. Jacob's Cathedrale. The School is organised by the Sibenik Private Gymnasyum and Educational Centre, supported by Croatian Ministry of Science, Education and Sport, the National Institute of the Republic Croatia, the Franciscan Province of Split and city of Sibenik.
The School programme is organised in response to:
a need for Croatian language, culture and history learning
a need to build up a sense of national identity and national pride
a need for direct exposure to the homeland and its people

The beautiful, stimulating and culturally - rich area of Sibenik and its surroundings, offer every student an opportunity to learn and develop a love of Croatia and its people.

The programme components are:
Courses (language, culture & history)
Educational excursions
Maximum educational impact through the coordinated programme of classes and trips

Tuition
Upon arrival on Sunday the students take a short Croatian language test so that classes according to the students' knowledge can be organised. Four lessons per day, each of 45 minutes duration, provide a lively and enjoyable learning enviroment with an emphasis on oral language skills. Our clases are small, with no more than 12 students per group. The teachers are chosen on the basis of their enthusiasm and their skills in teaching. On satisfactory completion of the course, each student receives a Certificate of Attendance.

Educational excursions
These include educational visits to:
1 week stay: The Hawk Centre, Krka National Park, Kornati National Park, Split/Trogir, City tour
2 week stay:As for 1st week plus Paklenica National Park, the islands of the sponge and coral makers, Plitvice National Park and A surprise trip.
3 week stay: As for 1st and 2nd week plus Zagreb, Dubrovnik, Sinj/Cetina, Međugorje, Vukovar
Fun Leisure Activities
evening walks in town,
discotheque,
games and activities

ACCOMMODATION

Homestay
All families have been carefully chosen and have been personally visited in their homes by the organizer. They are good, supportive friendly hosts. They provide all meals (including a packed lunch on course days), and take the responsibility for the students' transport to the Language centre. If a problem arises, which is rare, it is dealt with quickly and professionally.

Residental accommodation
The students will be hosted in triple rooms with private bathroom in International Centre Lusa, Brodarica, Sibenik.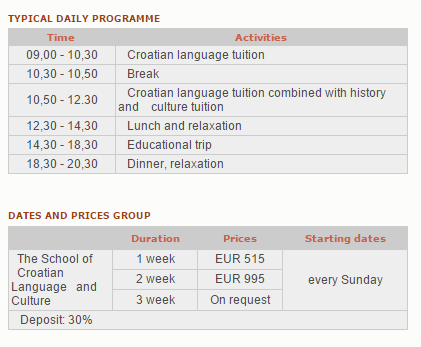 The prices include: Homestay accommodation with full board or residental accommodation, teaching programme – 20 lessons per week, teaching andministrative materials, as well as the Certificate of Attendance, medical care, insurance and organization.
The price is based on a minimum of 12 persons and one group leader .

The price does not include educational excursions and transfers.
Adult courses
Lessons: 20 lessons per week
1 lesson = 45 minutes
Starting dates: every Monday
Level: all levels all year round
Lessons: 35 lessons per week
Starting dates: every Monday
Level: all levels all year round
Lessons: 10-40 lessons per week
Starting dates every day
Level: all levels all year round
Accommodation
You have a choice of : host family with half board • Apartment with use of kitchen • Hotel accommodation
Special interest and leisure
St. Lowre's packed special interest lessons and cultural and leisure programme: guided tours, sports, evening parties.
Registration
To apply, please contact us:
e-mail: gimnazija@spg.hr
tel: ++385 22 333 623
fax: ++385 22 333 614

We will send the Aplication form, Price list as booked and Terms.